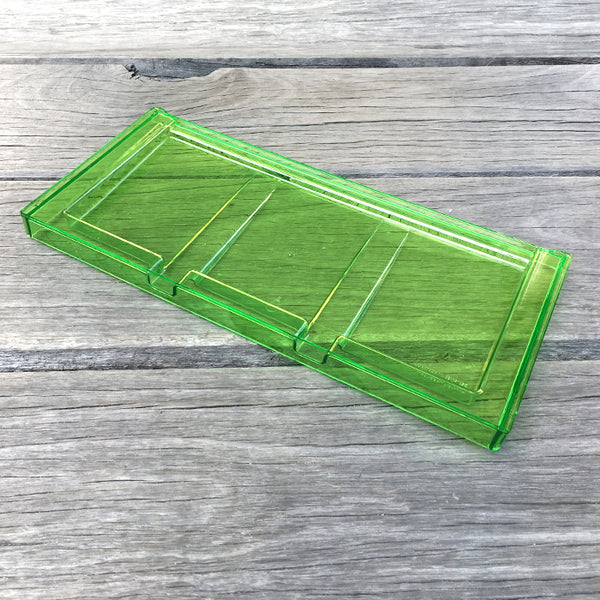 Mini Bench Component Kit - Drip tray
Have you lost or broken your Mini Bench Drip Tray and need a replacement? No need to buy a whole unit, just grab this Drip Tray component kit.
 Also, purchase this kit along with the Mini Bench Component Kit - Legs to convert your existing Mini Wall or Mini Rail planters to a Mini Bench that is suitable for indoor use.
We are offering FREE SHIPPING for orders over $250*, so add this to your planter purchases and save!
*see Delivery Options below for free shipping regions
Watertight Security
We promise a secure checkout, and that your personal details will be protected (because sharing isn't always caring).
with secure checkout
Money Back Guarantee
If you're not 100% satisfied, we'll give you your money back (you just need to return your Glowpear planter in resalable condition, within 30 days).
within 30 days
12-month Warranty
If anything goes wrong with your Glowpear planter in the first 12 months, we'll replace it free of charge.
replacement guarantee
Cultivation for a Cause
Every Glowpear planter sale provides 5 nutritious meals to people in need via our great friends at SecondBite.
with SecondBite
For spares part packs* we are currently offering the following delivery options:
Delivery to Australian addresses (Residential / Business) - $15-$30 depending on location
FREE shipping if included in an order over $250 for VIC, NSW, ACT, SA and QLD
Simply select the delivery option that best suits your circumstance when you reach the checkout.
*Not including Urban Garden leg pack.
Your Drip Tray will generally arrive within 2-10 days, depending on your shipping location.
At present we only stock Drip Trays in Australia, but if you live outside Australia and you're desperate to get your hands on some drop us an email and we'll see what we can do.
Alternatively, sign up to our mailing list and we'll make sure you're first to know about new products and retail channels available in your area.
Please also check our Returns Policy and Terms and Conditions of sale. *Please note that plants are not included **All pricing is inclusive of 10% GST
Featured In




Liquid error (layout/theme line 234): Could not find asset snippets/spurit_uev-theme-snippet.liquid