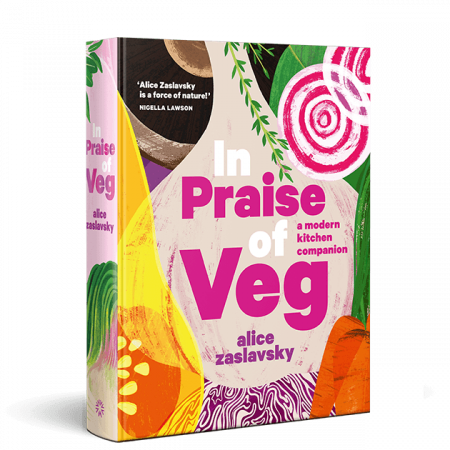 In Praise of Veg
A joyous must-have vegetable companion for the vegetarian or simply veg-forward: 'Alice Zaslavsky is a force of nature!' Nigella Lawson.
Get this definitive guide to making vegetables the centre of the plate.
In this comprehensive and fully illustrated kitchen companion, food writer and presenter Alice Zaslavsky profiles 50 favourite vegetable varieties, offering 150+ recipes reflective of both tradition and modernity, just as all good cooking should be. Uniquely organised by colour and filled with countless tips on flavour combinations, rule-of-thumb buying/storing/cooking methods, shortcuts, and veg wisdom from over 50 of the world's top chefs, In Praise of Veg will help beginners and avid cooks alike turn a bag of yawns or a produce-box surprise into a knock-out meal.

For the vegetarian or just veg-forward, In Praise of Veg is the most ambitious and comprehensive reference on the topic, as well as the delicious answer to the age-old question: what are we eating?

This book is on pre-order, so get in early today!
Watertight Security
We promise a secure checkout, and that your personal details will be protected (because sharing isn't always caring).
with secure checkout
Money Back Guarantee
If you're not 100% satisfied, we'll give you your money back (you just need to return your Glowpear planter in resalable condition, within 30 days).
within 30 days
12-month Warranty
If anything goes wrong with your Glowpear planter in the first 12 months, we'll replace it free of charge.
replacement guarantee
Cultivation for a Cause
Every Glowpear planter sale provides 5 nutritious meals to people in need via our great friends at SecondBite.
with SecondBite
For books we are currently offering the following delivery options:
Delivery to Australian addresses (Residential / Business) - $15
FREE shipping if included in an order over $250 for VIC, NSW, ACT, SA and QLD
Simply select the delivery option that best suits your circumstance when you reach the checkout.
Your book will generally arrive within 2-10 days, depending on your shipping location.
At present we only stock In praise of Veg in Australia, but if you live outside Australia and you're desperate to get your hands on a copy drop us an email and we'll see what we can do.
Alternatively, sign up to our mailing list and we'll make sure you're first to know about new products and retail channels available in your area.
Please also check our Returns Policy and Terms and Conditions of sale. *Please note that plants are not included **All pricing is inclusive of 10% GST.
Featured In




Liquid error (layout/theme line 234): Could not find asset snippets/spurit_uev-theme-snippet.liquid